Mum's doing spring cleaning and we've loads of old clothes to be sold to "Karang Guni Man". I've managed to dig out some nice fabrics for my crafting - of cos, it's only bags & pouches at this point of time, cos my skill is that limited.
Being inspired by Dorothy's clutch, I wanted to try one with a more casual look so I can use it for on weekdays when I go out for lunch. I would want to reserved Dorothy's nice clutch for more fun outings. I found a pair of blue stone-washed kinda jeans and started cutting out the size. And I have my interfacing, and talking about interfacing... I know that I'm supposed to iron on the interfacing onto the jeans, but it just refuse to stick to the jeans, no matter how hard I iron. So, I ended up with 3 pcs of fabric for my clutch and needless to say, my clutch is now without backbone.
The mini battery-operated sewing machine decided to gang up with the interfacing and gave me more problems. I only managed to sew the outer layer onto the zip and it started giving me problems. The thread kept getting stuck in the fabric, the needle refuse to move and get stuck in the fabric... blah blah blah. I spent the whole afternoon trying to fix the sewing machine but it still didn't work. In the end, I gave up and waited till my dad came back from work to fix the problem (he was a sewing machine salesman many many yrs back). After he fixed it up, I started sewing again on Sunday. After a few stitches, the needle got stuck in the fabric and refuse to move again. I fix it up, then the thread broke halfway and all sort of problem came along again, like yesterday. And guess what? The needle became crooked this time - I dunno what I did to it!!!
Well, in the end, I did the most of the sewing by hand and managed to complete it. What a problematic project.
I used a pale yellow zipper to match the stars of my monkey lining. Can you see the monkey peeping out of my clutch?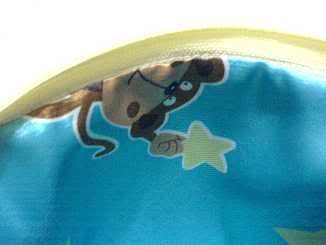 The clutch looks sort of boring and plain without any embellishment. I crocheted some clover edging using multi-colored pastel cotton thread. I think it matches the zipper as well.



More details... I was supposed to sew the lace on the denim fabric before I sew up the lining. And forgetful as I am, I sew up the lining without realising that. I was too lazy to re-do it again, cos I'm not a big fan of hand sewing anyway. So I 'cheated' and sew the edges into the sides of the clutch. There are little gaps and I just tied the lace to the thread. That also mean that if I get tired of this lace later, I can simply untie it and add in other laces. Not bad an idea huh!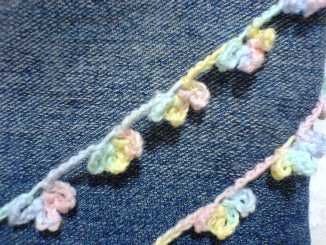 And here's the final product. I couldn't seem to be able to capture the colors of the crocheted lace. I still think that this looks a bit plain. I wish I'm more creative to make it more interesting. Well, I'll settle for this for the time being, till I can come up with something.