I was watching vcd the whole weekend, didn't even step out of the house for meals. Well, instant noodles it is...

Of cos, the only time that I knit it when I was watching TV. I was working hard on the Fish Afghan for Rick. I'm about 45% done, I guess... But, I'm sure that I can complete this way in advance for Christmas. I might give it to him earlier? Ya, it's getting very windy in Tiong Bahru, starting Aug all the way till Jan.

I've stitched up about 38 fishes... The balck color fish is very outstanding on the afghan, but, it's a nightmare stitching it up, cos I can't even see the stitch at all, especially under the lousy lighting that I have at home. Well, I almost gave up this project, as when I was about 20 fishes done. Thought it doesn't look as nice as I've expected it to be. But I persisted. Now I know I'm right to carry on. This sure look very nice and it is very warm and comfy. I'm sure Rick will like it.
I'm just wondering... The sides looks a bit flimsy and out of shape. Should I do a border for this afghan? To create my own border, or to knit all fishes in the same color and use that as border? I should have enough time to ponder on this while I continue fishing...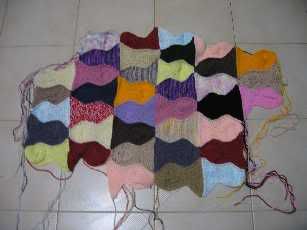 More fishes waiting to be stitched up. Here's about 28 of them. That makes 66 fishes. I wonder how many more fishes I need to complete. But I can swear that this is a fantastic stash buster! I've more or less finish most of my stash and scraps. Does that mean an excuse for me to start buying again? Hiak...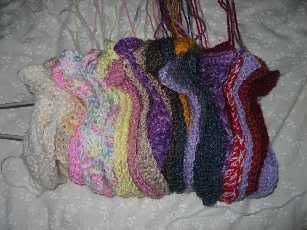 I've joined this CAL. I can't wait to start on more snowflakes. I've done my homework to search for the different kinds of snowflakes that I can try during the CAL week. I've calculated that I've about 50 over patterns. I'm just thinking about how many of them can I really work out due my limited skills.

I've finally made my 1st white snowflake...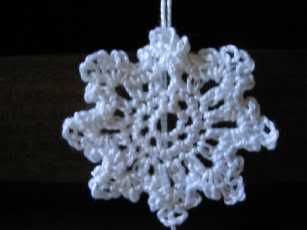 I can't wait to block them! I've even crocheted a pin chushion for the needles!